The NFL begins its second stint of mandatory minicamp practices. Twenty three teams are expected to be in action this week, taking advantage of another opportunity to evaluate players before training camps open next month.
More coverage:
23 more things to watch this week | 2019 minicamps: Around the league

Here are highlights from Wednesday.
---
Chiefs receivers found Patrick Mahomes' deep throws to be tough to keep up with during mini-camp practice on Wednesday, when the offense frequently worked with a strong breeze at its back. Demarcus Robinson and Sammy Watkins were unable to catch up to deep passes that were carried by the wind. "We need days like that, even rainy days,'' Robinson said. "You've just got to go with the circumstances and what's going on with the weather . . . Any day is tough to keep up with him. He challenges us with all the throws he has.''
---
Quarterback Dak Prescott and safety Jeff Heath had a minor disagreement during Wednesday's minicamp practice that had them face to face for a few seconds after Heath came up to stop Prescott on a zone read near the line of scrimmage. Before long it broke up and players went back to work. It was no big deal after practice. "When things get competitive like that it brings out the competitive juices in everybody and that makes practice really fun," receiver Amari Cooper said.
Takeaways from Day 2 of the Cowboys' minicamp: On the first play of red-zone drills, Dak Prescott floated a perfect crossing route into the arms of Randall Cobb for a touchdown. There was a defensive breakdown what appeared to be the linebackers on the play-action fake by Prescott that allowed Cobb to run free … Second-year defensive end Dorance Armstrong had a particular strong day. Armstrong likely would have had a sack of Prescott after beating Cam Fleming inside at the snap of the ball. He had a few more pressures throughout the practice … Cooper Rush struggled Tuesday but he closed the second-team two-minute work with a soft throw over cornerback Mike Jackson to Lance Lenoir for a touchdown on what was the final play … Mike White answered with the third team with a deep throw for a touchdown to Devin Smith, who got behind safety George Iloka while managing to keep his feet inbounds … Cornerback Donovan Olumba intercepted his second pass in as many days, stepping in front of a Rush throw.
---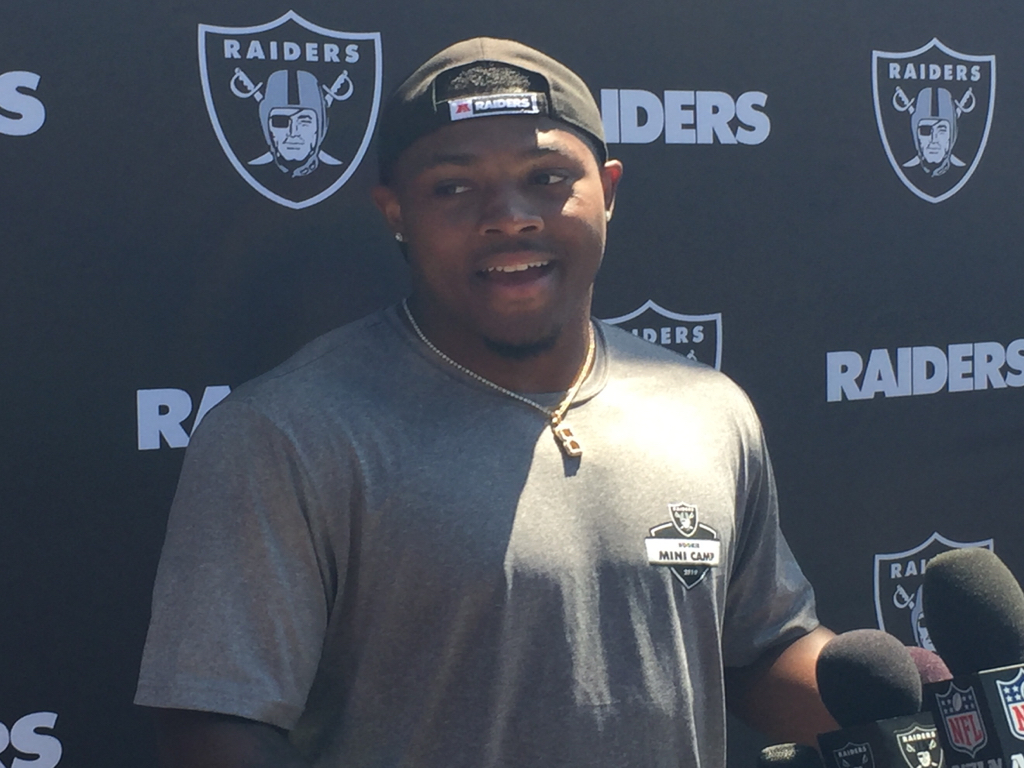 Josh Jacobs said he has been welcomed by the Raiders returning RBs with open arms…even as a first-round draft pick. "I didn't come in thinking it would be like that," Jacobs said. "But they're all loving and we all have the same common goals. Regardless of who it is, we all just want what's best for the team."
---
49ers rookie DE Nick Bosa said Wednesday that his plan over the next month and a half is to go to Fort Lauderdale to work with his brother Joey. Bosa missed most of OTAs and the mandatory minicamp with a hamstring injury. He said his aim in Florida will be to get the hamstring "completely right." Bosa said he's almost back to full strength now.
49ers QB Jimmy Garoppolo made it through the offseason program still on track to be ready for training camp. Coach Kyle Shanahan is hopeful that Garoppolo will be cleared fully to practice when camp starts in late July. Garoppolo even took a rep in team drills today, though defensive line was instructed not to rush the quarterback and simply put its hands in the air. After that, team went back to 11 on 7 look with no defensive line.
---
Like Tuesday's minicamp practice, Bills QB Josh Allen ended Wednesday's session better than he began it. Allen threw an interception early in 11-on-11 work to safety Jordan Poyer and was sacked twice, leading to him trying to fire up the offense. He struggled in a third-down drill backed up against his own end zone, but rebounded in a red zone drill in which he completed four consecutive passes and later scrambled for a 5-yard touchdown.
---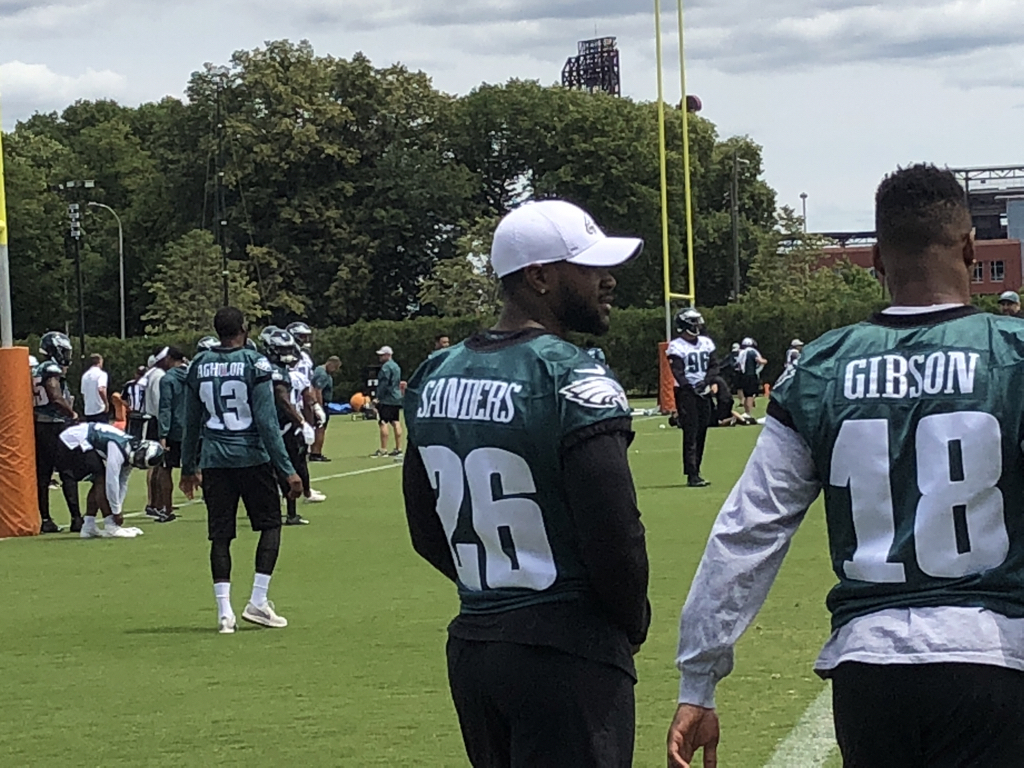 Eagles rookie RB Miles Sanders continues to be held out of spring practice with a hamstring injury. He'll be sidelined for the entire three-day minicamp. "Obviously, it hurts a little bit that he's not getting the physical reps, but I don't want to risk him any further," Doug Pederson said. "We'll wait until camp and get him out there."
---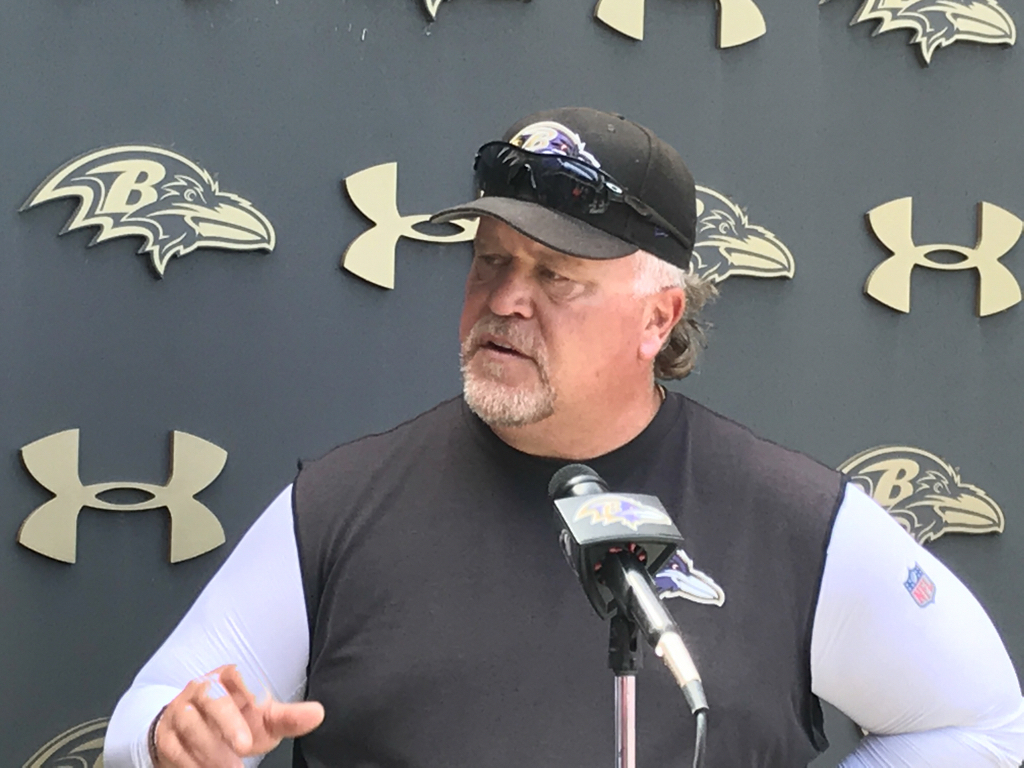 Ravens Defensive coordinator Wink Martindale on the defense losing Terrell Suggs, Eric Weddle and C.J. Mosley this offseason: "Transition could be substituted for mourning. It's like that Avengers movie, that Thanos guy snapped his finger and you're like, Where did everybody go?"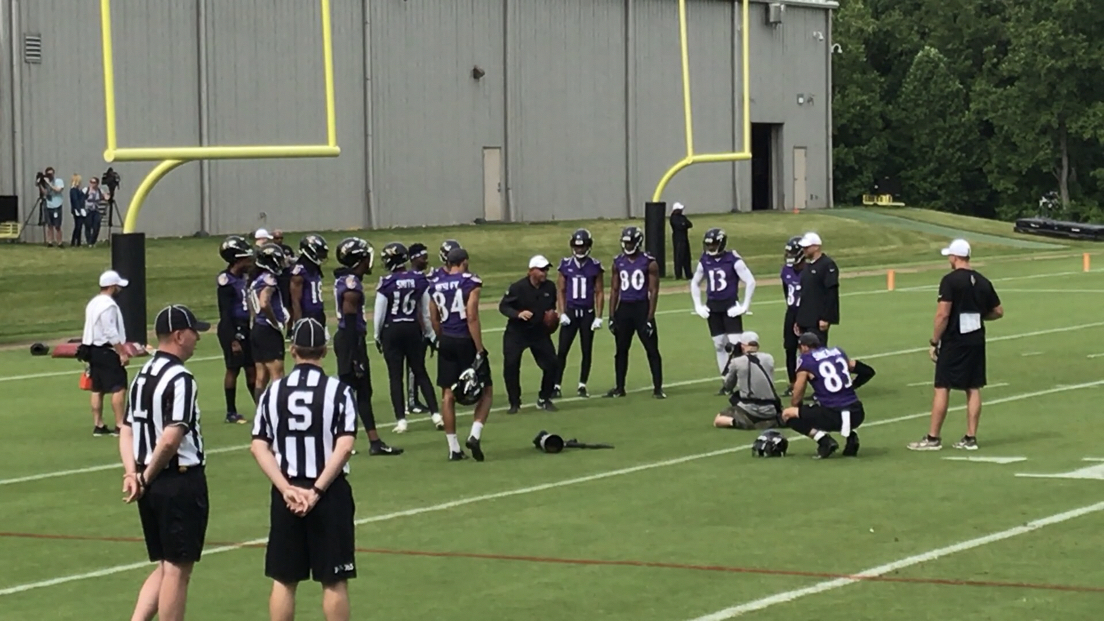 Ravens first-round pick Marquise Brown won't fully participate until training camp because he's recovering from foot surgery. But he did jump into his first drill Wednesday.
---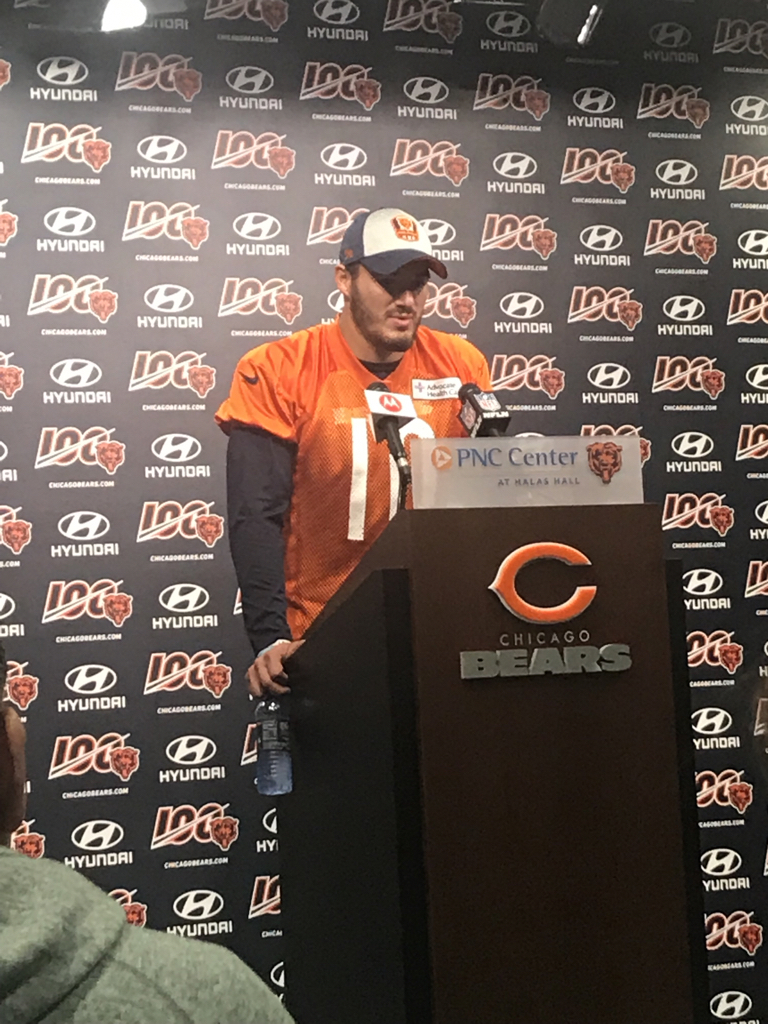 Bears quarterback Mitchell Trubisky is entering an important third NFL season, but Trubisky says he feels better prepared after another full offseason in Matt Nagy's offense. "The fact coach Nagy has so much faith in me is huge," Trubisky said on Wednesday.
---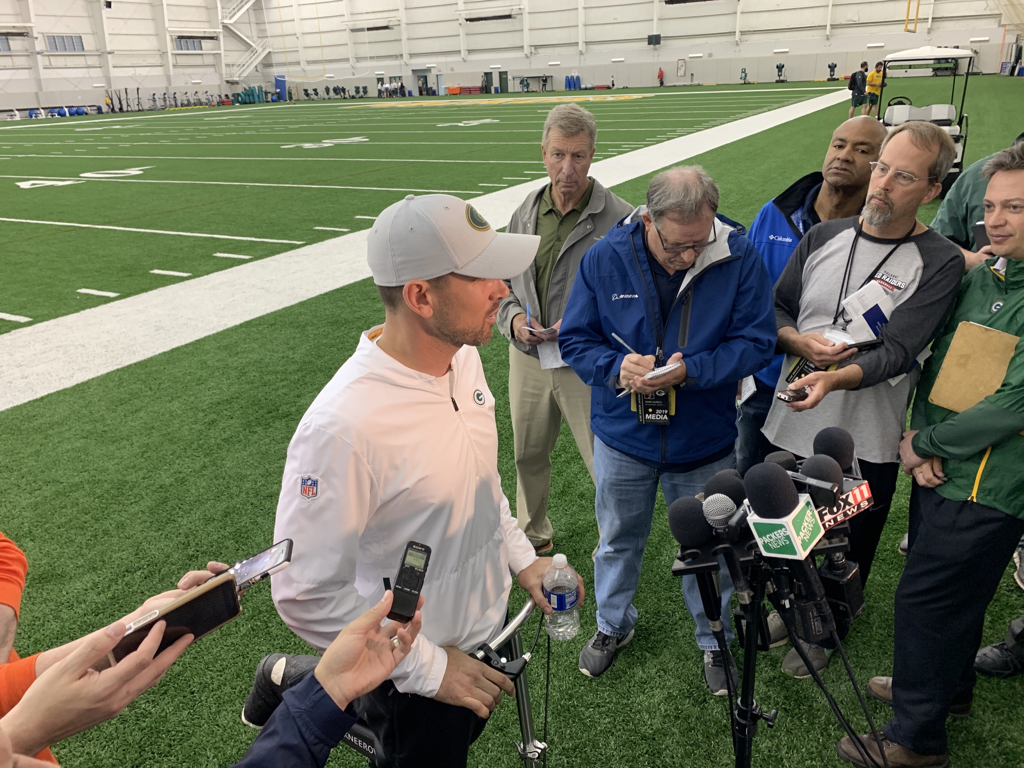 Matt LaFleur on where his first Packers team is at the end of the offseason: "I love the character of this team but there's a ways to go. Looking forward to getting them back for (training) camp."
Drew Brees started a bit slow but finished strong in his first minicamp practice Wednesday. His final throw was a perfect deep ball to Ted Ginn Jr. down the right sideline for a touchdown with four seconds remaining in a simulated hurry-up drill. Earlier in practice, Brees got picked off by cornerback Marshon Lattimore — who jumped in front of TE Jared Cook on a downfield sideline route.
Done Deal: @camjordan94 signs three-year contract extension with the #Saints! pic.twitter.com/NBdwpQLrmR

— New Orleans Saints (@Saints) June 12, 2019
Drew Brees is back on the Saints' practice field after wrapping up his testimony in San Diego on Tuesday. Brees, who is suing a jeweler that he claims defrauded him out of millions of dollars, missed one day of minicamp this week and one OTA practice last week. The trial is ongoing.
---
Jaguars OC John DeFilippo said he has a much better opinion of the team's receivers than he did when he first was hired in January. He especially likes the fact that there are different types of receivers. Plus, Marqise Lee hasn't practiced yet as he returns from a knee injury so Lee's return will only make the group better in the fall. "I'm going to be flat out honest with you: It [his opinion] has [changed]," DeFilippo said. "We have a lot more speed there than I thought. We have some guys in that room that can fly, some big guys that can fly. I'm a big believer in the receiver room and diversity. When I say diversity, it doesn't have anything to do with where you're from or your race or whatever. Different body types, different skill levels, in terms of [us having] a bigger guy that can body someone up and maybe a guy like Dede Westbrook that is a little bit of a smaller guy, but can wiggle and get himself open in different ways. You don't want all big guys. You don't want all small guys. You want a good, diverse group in that room that brings different skill sets to the table."
---
After catching passes from Ben Roethlisberger during Steelers minicamp, Ryan Switzer beat soft-serve coverage in the parking lot of the team facility.
Switzer treated players and employees to Bruster's Ice Cream after Wednesday's practice. The Bruster's truck pulled up shortly after practice and quickly drew a crowd. Story »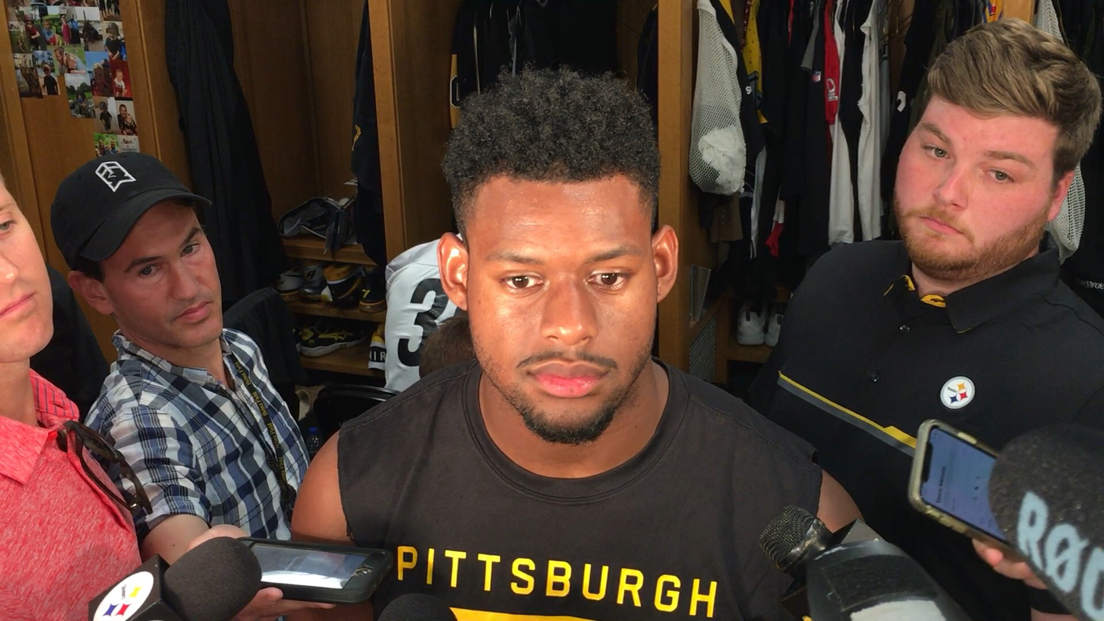 JuJu Smith-Schuster was disappointed with how things ended with him and Antonio Brown in Pittsburgh: "If we're ever in the same room, I'm going to say what's up to him."
---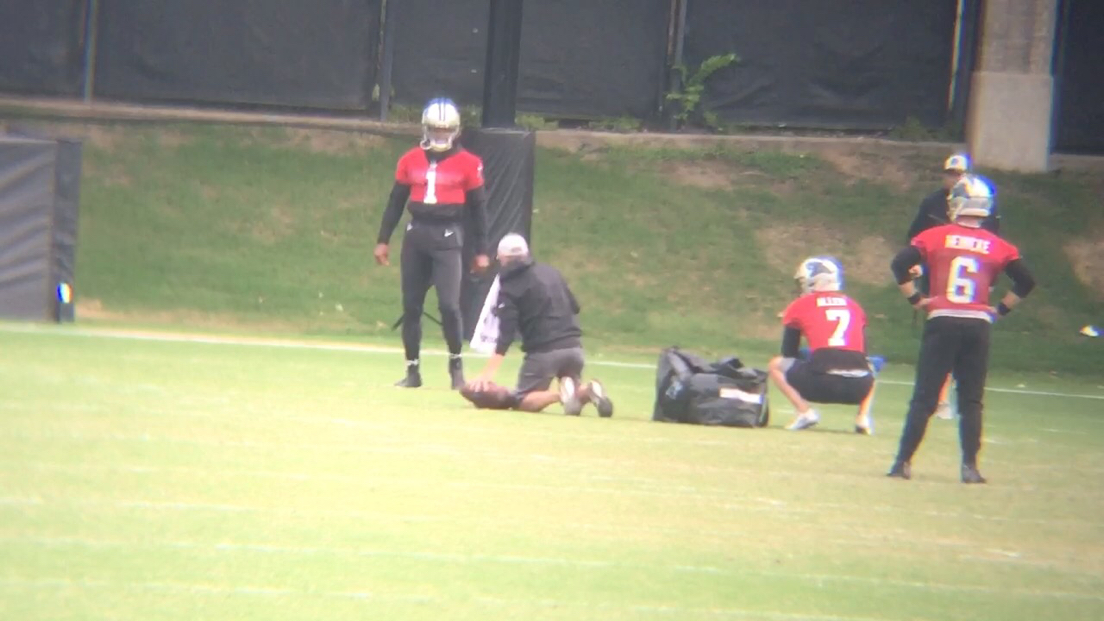 Cam Newton did a little more on the second day of the Panthers' mandatory three-day minicamp. He expanded his range from 15 to about 20 yards and threw a handful of passes to moving targets as opposed to stationary. He still did not participate in team drills.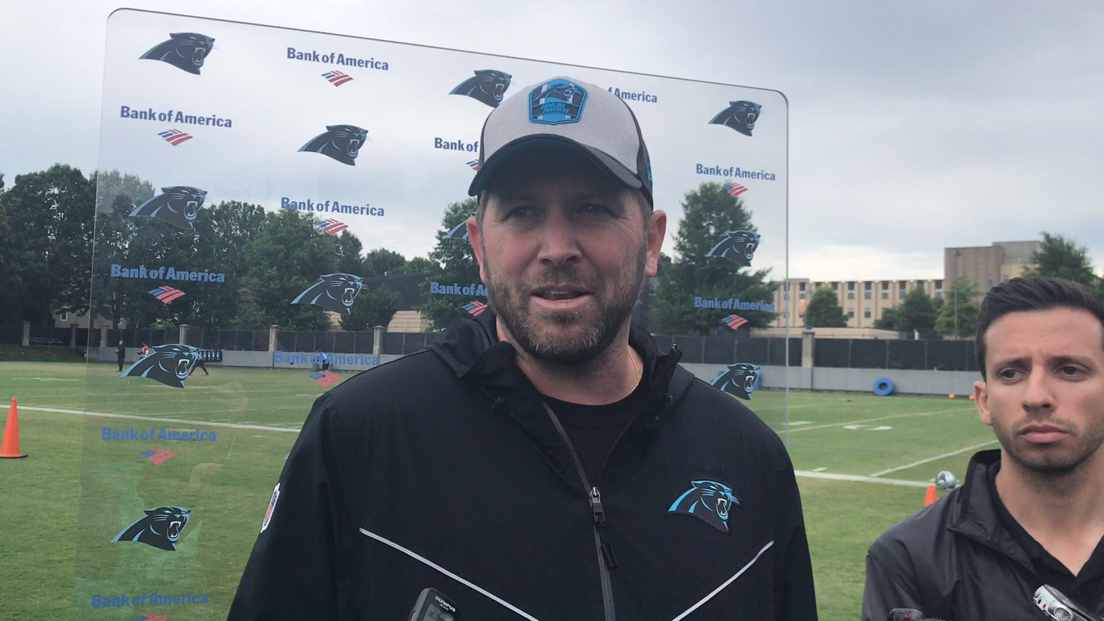 Panthers quarterbacks coach Scott Turner has put a lot of effort into improving Cam Newton's footwork and upper body mechanics when throwing to take stress off the quarterback's right shoulder and improve his accuracy. It was working until Newton's shoulder became an issue after a 6-2 start last season and the 2015 NFL MVP went back to old habits. Much of the focus during this offseason and Newton's rehab is to make the throw more "compact and closed off," to get Newton from throwing off his back foot as much. Turner likes what he's seen during minicamp camp as far as muscle memory Newton has retained.
---
Tuesday, June 11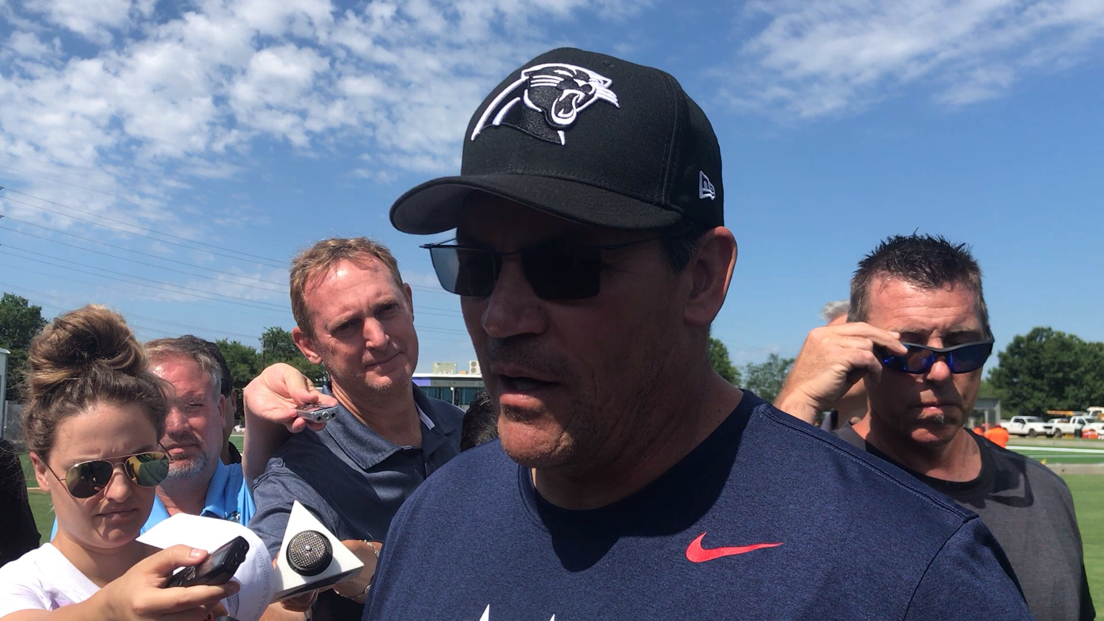 Panthers coach Ron Rivera said he was ''very pleased" with what he saw out of Cam Newton throwing today and how the 2015 NFL MVP responds after practice will determine how much he throws on Wednesday.
Watch Cam Newton throw at minicamp https://t.co/6MvNIEwRsV

— Carolina Panthers (@Panthers) June 11, 2019
---