A fengshui master from Singapore has denied doing anything wrong and refused to apologise after being barred from Cambodia following accusations that he discredited the country's ancestral heritage and monarchy.
In an interview with This Week in Asia, Cheah Fah Loong, who is better known as Master Yun, insisted that everything he had done "was correct" and he would "never apologise".
"Can you imagine, if I say I'm sorry that means I have done something wrong. Everything that I have done was correct," Cheah said.
He was singled out by Cambodian media this month after Prime Minister Hun Sen said a Singaporean had "disparaged the royal family" as he turned his back on dancers from the Cambodian Royal Ballet during a performance in the city state.
"This is so degrading to our culture," said Hun Sen, who did not name the Singaporean but added that he would not rescind the ban unless an apology was made. "What he did was a grave attack on the monarchy."
Cheah, 48, who is the owner of the Lotus on Water fengshui gallery chain in Singapore, said the controversy centred on a photograph uploaded on his Facebook page in which he was performing a prayer ritual. Behind him the Cambodian dancers can be seen performing on a red carpet under a canopy.
Lotus on Water executive director Kan Ying Loong had earlier said that the performance took place on February 9 as part of the company's Lunar New Year celebrations at its Upper Thomson gallery. Besides the Cambodian Royal Ballet, the five-hour event also featured Chinese opera singers, lion dancers and stilt walkers
While his critics in Cambodia said on social media that the performance was meant only for royalty and "sacred" events, Cheah has maintained that similar performances have been held elsewhere – in museums, hotels, and even at weddings – and that the photograph has been taken out of context.
He said he was "furious" at the turn of events and pointed out that he had invested about $700,000 in the dance troupe and other arts initiatives by the Cambodian royalty.
Cambodia nominally operates as a constitutional monarchy, in which the king serves as the head of state and the prime minister is the head of the government, but Hun Sen – who has occupied the latter post for 35 years – is often seen as the true, unrivalled locus of power.
This Week in Asia has approached Singapore's foreign affairs ministry and the Cambodian embassy in Singapore for a comment on the issue.
Royal relations
Cheah's list of past clients includes members of the Cambodian royal family who have sought his advice on fengshui over the last three years.
He said he first met Prince Sisowath Tesso, cousin of the current king Norodom Sihamoni, in 2017, and was later introduced to the late Princess Norodom Buppha Devi in November the same year, when she was in Singapore for the screening of The Royal Ballet of Cambodia film. Princess Devi was the principal dancer of the Royal Ballet and was in charge of the troupe, but after her death in November, Prince Tesso led the ballet group.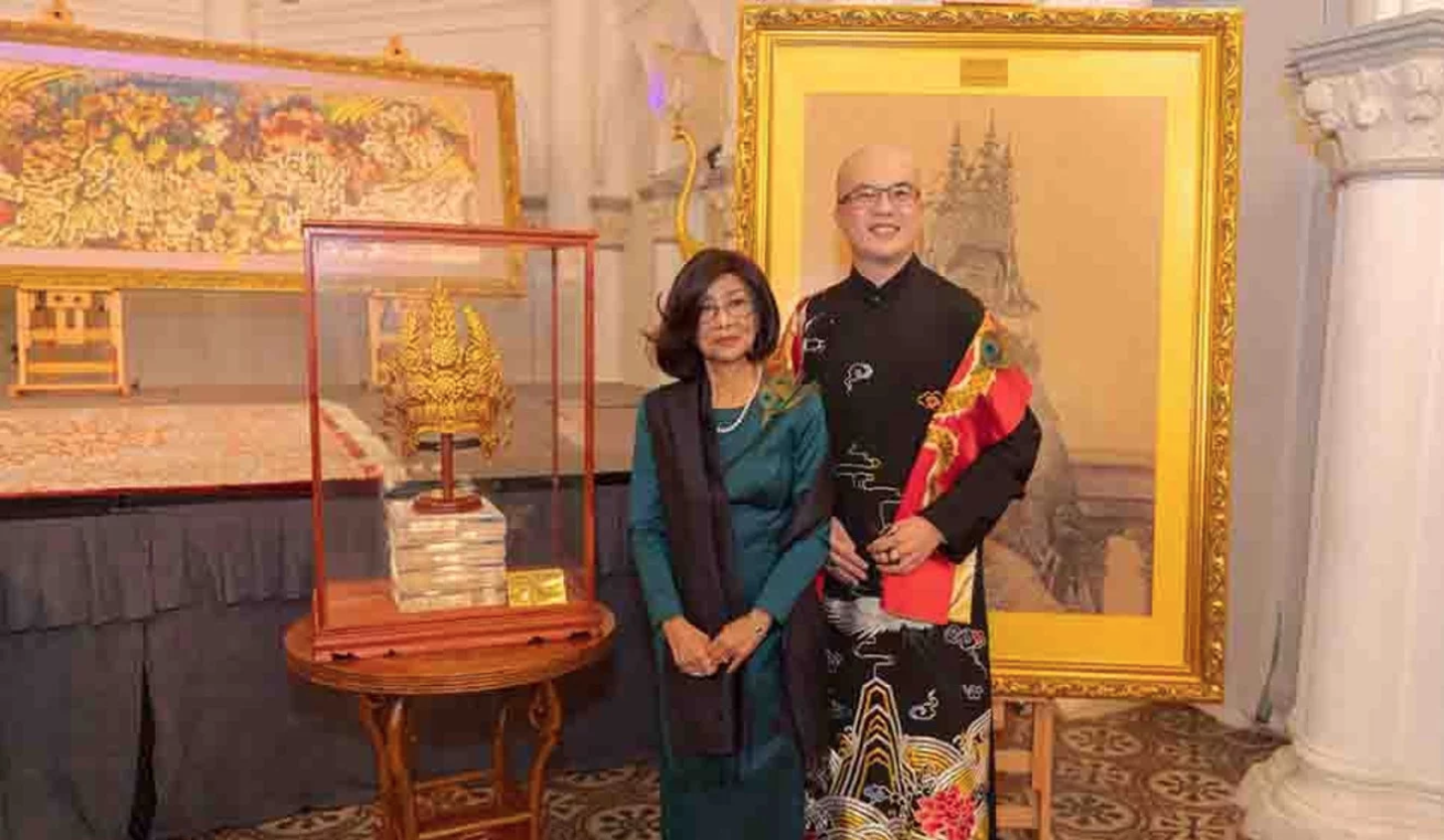 Cheah was also among the sponsors of the 2017 film, and he used to travel to Cambodia about six times a year before being banned.
As he supported Cambodian art and culture, he was seen as brokering good relations between Singapore and Cambodia – and even with China, where a group of friends invested in and contributed to the Cambodian royal family's projects, Cheah said.
This led to the country's royals and Lotus on Water having a "very constructive, healthy and harmonious relationship", said Kan, from the gallery, which meant the team were distraught when they heard about the ban. "For us, it's injustice, we feel."
Cheah said it was also a bad message for the Cambodian government to be sending.
"We have contributed and if [Cambodia] reciprocates, we are going to reward them more," he said. "If not, I am going to take this contribution and give it to my own country, or another country, or somebody else who is more appreciative."
Prince Tesso, who accompanied Cheah during the interview on March 9, said he had flown to Singapore from Phnom Penh immediately after the controversy broke, and had spoken to the Cambodian Minister for Culture and Fine Arts Phoeurng Sackona to explain the situation.
"We met and had a long meeting and she told me she was surprised [when she heard] about the case," said Prince Tesso. "I talked to her for a long time and explained the friendship we had with Singapore and Master Yun."
Prince Tesso said many Cambodians were angered by the picture, but only a few of them actually supported the arts, adding that he felt angry because it was foreigners, such as Cheah, who had supported the Cambodian arts for a long time. "It's very difficult for me to have the support from my own compatriots, so why would they think that foreigners are looking down on our culture? [The foreigners] are supporting," he said.
Suggesting that the offending picture had been brought to the government's attention by someone wishing "to criticise the event", Prince Tesso said he hoped the ban was not the result of palace intrigue among the two Cambodian royal households – he belongs to both the ruling House of Norodom and the House of Sisowath through his mother and father, respectively, and said he had "no reason" to support one over the other.
The meeting with Sackona the culture minister was "cordial", he said, and it was suggested that more guidelines be put in place, such as how some dance moves should be reserved for more "sacred" events, and how other performances could be used in weddings or for the public to see. "This incident will definitely not happen again if the government makes good rules," said Prince Tesso. "The Minister of Culture told me that she will think about it with the dance teachers and how we can present the royal ballet in [different] ceremonies."
Prince Tesso also said he was looking into coming up with new dances for the royal ballet, and wanted to "adapt Cambodian culture to the modern times". This way, Cambodian culture could gain popularity and flourish, he said.
He said his visit to Singapore was to convey things from the Cambodian side and to make sure that ties thaw. "For me, we should keep relations beyond this [issue]. I feel that my government would want to understand and know Master Yun and my sincere wish is that the government will allow him to keep good relations with Cambodia. The government, I am sure, would want to keep good relations with Singapore. We have this long friendship and why, for this reason, would we want to ruin the friendship?"
This article was first published in South China Morning Post.