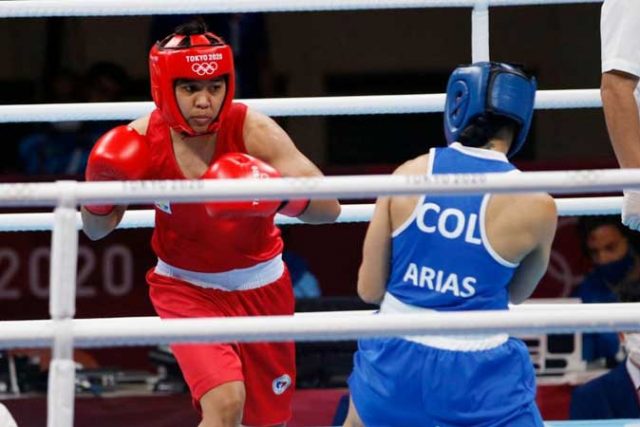 Swimmer Remedy Rule's campaign ends
FILIPINO boxer Nesthy Petecio is through to the semifinals of the women's featherweight division at the Tokyo Olympics and is already assured of a bronze medal.
The Davao del Sur native dominated her opponent Yeni Arias of Colombia by unanimous decision, 5-0, in their quarterfinal bout on Wednesday at the Kokugikan Arena to book a place in the last four in her weight category.
Also on Wednesday, Filipino-American swimmer Remedy Rule saw her Olympic campaign end after failing to advance past the semifinals of the 200m butterfly event.
Choosing to be more tactical, Ms. Petecio outclassed Ms. Arias throughout the three-round contest, creating angles and landing solid blows.
The Colombian tried to rally back in the final round, but the Filipino bet was not to allow her to gain much headway en route to securing the victory.
The judges scored the fight, 30-27, 30-27, 29-28, 29-28, 29-28, all for Ms. Petecio.
Ms. Petecio's win assured as well for the Philippines a multi-medal outing in the Olympics, something not seen in 89 years.
The last time it happened was in 1932 in Los Angeles when high-jumper Simeon Toribio, swimmer Teófilo Ildefonso and boxer José Villanueva won bronze medals.
Ms. Petecio is looking to duplicate the golden conquest of weightlifter Hidilyn F. Diaz in Tokyo last Monday.
In the semifinals on Saturday, July 31, she will take on Irma Testa of Italy in a fight set for 12:39 p.m.
RULE OUT
Meanwhile, swimmer Ms. Rule closed out her Tokyo Olympics campaign by finishing 15th overall in the semifinals of the 200m butterfly at the Olympic Aquatics Centre, failing to advance to the medal round.
She clocked in two minutes and 12.89 seconds in her semifinal heat, good for eighth place.
Ms. Rule also did not advance in the 100m butterfly event early this week.
Reports have that the Tokyo Olympics was the first and last for Ms. Rule as she will be concentrating on her studies in marine biology in the United States. — Michael Angelo S. Murillo