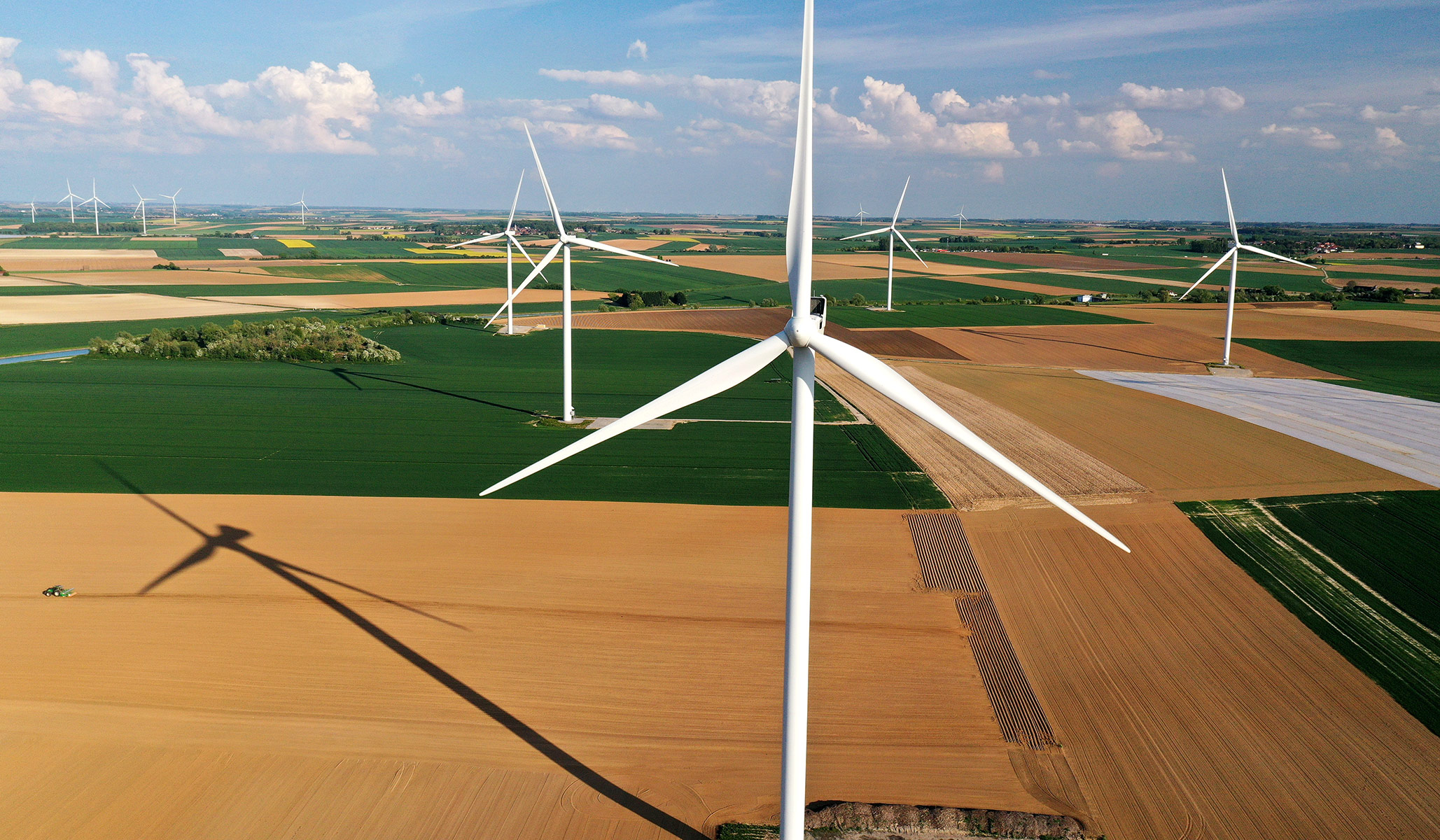 The week of September 13: climate policy and Europe's energy crunch, inflation, taxation, and much more.
Much of last week's Capital Letter was focused on the growing energy crunch in Europe — a crunch that has something (but not everything) to do with needlessly destructive climate policies, and has, quite clearly, lessons for the U.S.
Anyone who reached the end of that part of the Letter — it was lengthy, but this week's is longer still: If it was about something more entertaining Peter Jackson would be thinking about a trilogy — will not be surprised to discover that the situation has not gotten any better.
European power prices have spiraled to multi-year highs on a variety of factors in recent weeks, ranging from extremely strong commodity and carbon prices to low wind output.

What's more, the record run in energy prices is not expected to end any time soon, with energy analysts warning market nervousness is likely to persist throughout winter.

The October gas price at the Dutch TTF hub, a European benchmark, was seen to climb to a record high of 79 euros ($93.31) a megawatt-hour on Wednesday. The contract has risen more than 250% since January, according to Reuters, while benchmark power contracts in France and Germany have both doubled.

In the U.K., where electricity bills are now the most expensive in Europe, power prices have soared amid the country's high dependence on gas and renewables to generate electricity.
And the impact of climate policies? Well, start with the quick reference to "carbon prices" in the CNBC report. Carbon prices reflect the "market" created by the EU's insistence that certain industries are required to have a permit for every tonne of various greenhouse gases (including CO2) that they emit each year. Under this regime, known as the European Trading System (ETS), they are given an allowance (which is steadily being reduced). If their emissions exceed that allowance, they will have to buy extra permits (EUAs — European Union Allowances) on the market. The supply of permits is not unlimited. Companies subject to this regime, which emit greenhouse gases for which they do not have a permit will pay a fine of €100 per tonne (metric ton), which can be compared with a current EUA price of roughly €60 per tonne. Among the sectors — which account for some 40 percent of the bloc's emissions — caught within the ETS is electricity generation.
The EU's Commission — i.e., its bureaucracy — describes the ETS in this way:
The EU ETS works on the 'cap and trade' principle. A cap is set on the total amount of certain greenhouse gases that can be emitted by the installations covered by the system. The cap is reduced over time so that total emissions fall.

Within the cap, installations buy or receive emissions allowances, which they can trade with one another as needed. The limit on the total number of allowances available ensures that they have a value.

After each year, an installation must surrender enough allowances to cover fully its emissions, otherwise heavy fines are imposed. If an installation reduces its emissions, it can keep the spare allowances to cover its future needs or else sell them to another installation that is short of allowances.

Trading brings flexibility that ensures emissions are cut where it costs least to do so. A robust carbon price also promotes investment in innovative, low-carbon technologies.
Prices are certainly "robust" at the moment.
Back to CNBC (my emphasis added):
British day-ahead electricity prices rose nearly 19% to reach 475 pounds ($656.5) on Wednesday, Reuters reported. The contract was already trading near record highs shortly after a fire at a U.K.-France power link cut electricity imports to Britain.

"By far the biggest factor is gas prices," Glenn Rickson, head of European power analysis at S&P Global Platts Analytics, told CNBC via email.

Higher [natural] gas prices have also been a "big driver" in lifting carbon and coal prices to record highs too, Rickson said, although he noted there are other supporting factors at play, such as low wind generation and nuclear plant unavailability across the continent.

Carbon prices in Europe have nearly trebled this year as the European Union reduces the supply of emissions credits.The EU's benchmark carbon price climbed above 60 euros per metric ton for the first time ever in recent weeks, trading slightly below this threshold on Thursday.
An increase in the cost of natural gas used to generate electricity can (obviously) mean higher electricity prices, which will already have been boosted by the cost of emissions certificates. When renewable or other non-greenhouse-gas-emitting sources of power (nuclear) fail to deliver what is expected of them, the increase in demand for gas will, in all probability, increase the demand for permits and thus, in all probability, their price. The consumer is effectively hit twice. The ratchet doesn't stop there, however. If, as now, a shortage of gas pushes the gas price up, that makes coal-fired generation more price competitive. However coal-generated power is roughly twice as carbon-intensive as electricity generated by natural gas. Increasing use of coal will push up demand for both coal and permits and thus (again, in all probability) push up the price of both. If that happens, however, the all-in price for coal-generated electricity may then rise to the extent that gas again becomes competitive, even though it is still expensive. Utilities will then increase their buying of gas, pushing up gas prices still further, and on and on we go.
Please keep in mind that the market in EUAs can also be used for more than immediate needs. Sometimes this is merely a matter of emitters engaging in what are effectively hedging operations, sometimes . . .
There is also evidence of compliance buyers (e.g. European utilities) purchasing EUAs on a forward basis to try and lock in positive margins on coal & lignite assets.
However:
Part of the move higher in EUA prices has been driven by a surge in demand from non-compliance entities, loosely termed as 'speculative buyers'.  This for example includes funds & financial institutions 'front-running' compliance demand (e.g. from power generators) in the anticipation of selling for a profit into rising prices across Phase 4 (2021-30).
Bloomberg (also from March):
The European Union needs to analyze the impact of investor speculation on the world's biggest carbon market when reforming the program, Denmark's Climate Minister Dan Jorgensen said.

Permits to pollute in the EU Emissions Trading System jumped to a record 41.04 euros Wednesday, extending their gains to 50% in the past six months. The prospects of stricter climate goals under the European Green Deal and higher prices has lured new financial investors, including hedge funds.
Oh no!
This whole "market," one in essence based on bureaucratic diktats, is, in many ways, a facsimile of the real thing, but if it starts showing too many signs of operating in ways that markets should (by attracting speculators) that won't do at all . . .
But back to natural gas. Why have prices increased? I discussed this at some length in last week's Capital Letter, but CNBC provides a brief recap. As you can see, it is not all about climate policy, far from it.
European gas prices have accelerated since the start of April, when unseasonably cold weather conditions meant Europe's gas in storage dipped below the pre-pandemic five-year average, indicating a potential supply crunch.

Europe has since struggled to bring gas supplies that are necessary for the winter period back to where they should be. An economic rebound as countries eased Covid-19 restrictions also coincided with higher-than-expected demand that led to a shortage of gas.

This deficit is "making the market nervous as we approach winter," Stefan Konstantinov, senior analyst at ICIS Energy, a commodity intelligence service, told CNBC. "That is coupled with the very significant competition for LNG supplies from Asia and South America, which is driving gas prices up."

Further to this, Russia has been seen to slow its delivery of piped natural gas to the region, raising questions about whether this may be a deliberate move to bolster its case for starting flows via Nord Stream 2.
As I noted last week, there may be other reasons for the Russians behaving in the way that they are, but still . . .
As it is (via Bloomberg on September 15):
Anticipation of an imminent start of the Nord Stream 2 pipeline from Russia to Germany has evaporated. The German regulator said it has until January to decide on the project certification, while state-controlled exporter Gazprom PJSC admitted the link won't start flowing gas from Oct. 1, even as the Kremlin said a quick start of the project would ease the European gas crisis.
In the U.K., the position has been made far worse by low gas production this year and the failure of the wind to, well, blow. Wind accounted for about a quarter of the U.K.'s power last year, and that share can rise.
CNBC:
"If there was enough wind, it could maybe meet more than half or two-thirds of U.K. power demand on a relatively low power demand day. But instead what we are seeing is that actually we've got no wind and we are forced to fire up polluting coal-fired generation."

"At first glance, that doesn't tally up with the government's ambition to decarbonize. But this is very much driven by the intermittent nature of renewables: both wind and solar," [Konstantinov] added.
To repeat another point I have made before, resilience needs to be a vital element in any energy-supply…